I'm not sure how close the connection between gamers and sushi consumption are, but all the gamers I know (myself included) love sushi with a passion. That said, I found a great store that sells all sorts of sushi-themed items for the holidays from
decorative tape
to
bandages
to
rugs
. (And let's not forget
pencil toppers
.)
Interested? Of course you are!
Black Friday/Cyber Monday Free Shipping Promotion:
There will be
FREE SHIPPING
on all purchases placed from Friday, Nov. 28th through Monday, Dec. 1st. All! That means International AND Domestic. This is a great time to get a gift for your gamer friend without paying anything extra for shipping.
December Charity Promotion:
I finally decided what my annual charity project is going to be! Yay! Every year I like to do something to help out a charity. This year I'm going to donate money from each of my sales on Etsy.
For every item sold during the month of December, $1 of the proceeds will go to the Child's Play charity.
I think it's appropriate since much of my shop is gaming-oriented!
The Holiday season is in full swing, and everybody is out looking for deals. The days after Thanksgiving have become huge shopping days, so I decided to hop on the bandwagon. I've been tossing some ideas around for awhile now, but I finally settled on what to do. Here are the two promotions I will be running in my shop during the holiday season:
I'm not going to assume that all gamers are also Japanophiles, but if you are, then the online store that hosts
this great console gamer t-shirt
will also have a lot of other goodies for you.
I'm ordering one for my in-the-other-room-playing-X-box-360 boyfriend's Christmas gift.
And they have
other geeky t-shirts
if you are interested...
On November 28th & 29th (Black Friday and Saturday for you retail minded people), representatives from
ConNooga
will be at both
DiceHead Games & Comics
locations garnering support and taking registrations for our upcoming convention. Now would be the best time to get your registration in before we cut off pre-reg and you have to pay more money at the door.
(
So what are we going to have for you in 2009?
Collapse
)
Don't Forget Saber Idol!
A Lifetime partnership with Con Nooga has SABER IDOL becoming our premiere event! In 2009 the stakes will get higher, competition tougher and some new twists and surprises are abound in 2009! A Family Fun event NOT TO MISS! Check out:
Saber Idol
for more details.
And for the Kids - Don't miss SABER IDOL JUNIOR! The next big thing to hit Con Nooga - as the Kids take the stage and dazzle our judges and crowds with their lightsaber skills! Coming to Con Nooga 2009!
GAMING, GAMING, GAMING!!!
Tournaments (All sponsored by DiceHead games)
WarHammer 40K
Yu-Gi-Oh
Munchkin
HeroClix
WarMachine
We still have a few slots left open for Scheduled Gaming! If you want to run some gaming goodness for us, email our Gaming Director Mark at gaming [at] connooga.com for more info.


If you post images that total greater than 500x500 pixels, place them behind a cut. It's fine to give us a few images for a preview before the cut, but don't post a string of 15 huge images without cutting it. Thumbnail if necessary. Not everyone wants that to pop up on their friends page.

Please adjust posting behavior accordingly. Thanks!
It was pointed out (offline) to me that the number of images is not so much a problem as the size of the images. Therefore the image rule for this community has been amended to the following:
(n)
: 1) an ancient word meaning 'master' or 'overlord'. 2) Talisman Studios' new role-playing system and universe.
Whether you want to play a Viking berserker, a cyberpunk, or Zeus himself... these rules let you do it all with ease. Our book contains 48 pages of basic rules for quick start play and advanced rules for gamers who want something a little meatier. So gather your friends and set off for uncharted space or the deepest unknown. All you need to pack is your copy of Suzerain and your imagination.
This product is a large PDF download and art intensive. It comes as two pdfs, a high art version and a print-friendly version, both of which are included for the price.
Check out our store!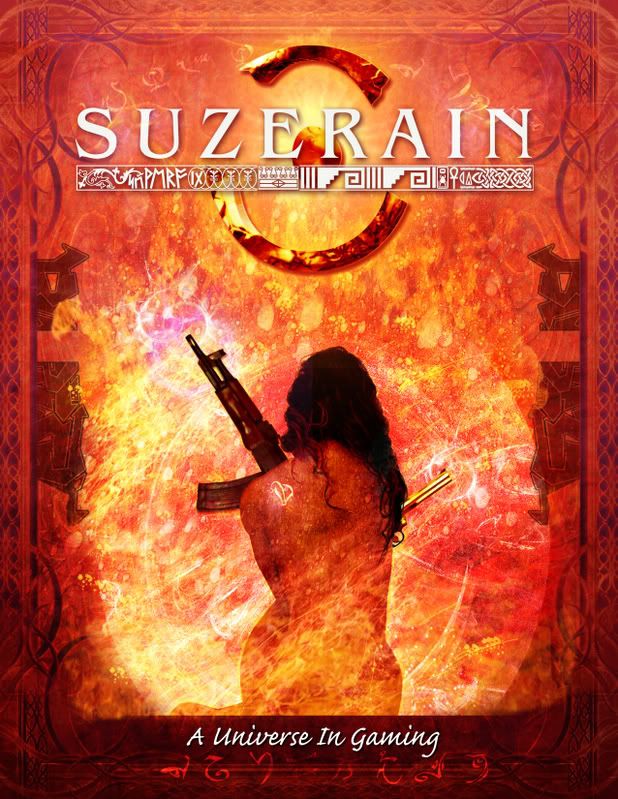 Suzerain
New to the community and this is a great idea. We released this on Sunday, but it fits the bill:



(Chicago, IL) – October 26, 2008. Rogue Games, Inc. starts Halloween early!
With Halloween less then a week away, The Rogues of Rogue Games is pleased to announce the release of Colonial Gothic: The Legend of Sleepy Hollow!
Included in this new presentation is not just Washington Irving's classic story, but a new sourcebook for Colonial Gothic covering not only the village of Sleepy Hollow but The Tappan Zee. From the history of the region, to advice on how to use it, everything you need for using Irving's classic setting is provided here.
Numerous mysteries exist in The Tappan Zee and so too does many dangers. Do you have the courage to brave Raven Rock? Is it true Captain Kidd's treasure is located somewhere in the area? Why are the graves missing bodies? These are just some of the questions waiting to be answered.
Available exclusively at DriveThruRPG.com, this PDF download sells for $1.00.
What are you waiting for? Start the week of Halloween off right, and download a copy today!
Current Mood:

busy
With printable backings for both notes or attractive "deck" backings, you have the power to print and create these cards and use them any way you wish. For example, how wonderful would it be for a player to discover an enchanted suit of Korindian Studded mail (resplendent with the embedded seashells), and you can hand him an illustrated card with all the appropriate notes on it?
Look to the rest of the Talisman Studios products to find other sets of cards that can enhance your gameplay - after all, Talisman is, first and foremost, an art studio with a gaming addiction. Enjoy!
Product contains: an 8 page full-color, high resolution PDF with 27 armor item cards, and three sheets of differening card backs for you to print out and use.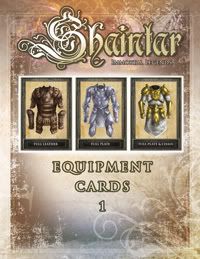 One of the great things about Shaintar is how truly visual it is, and this first set of Equipment Cards for the setting is a prime example of that. Jason Engle and Alayna Lemmer have teamed up to bring Sean Patrick Fannon's ideas to life, giving you a full set of every kind of armor that exists in Shaintar to show players what they are wearing... or what they are facing. Enhancing the theater of the mind, these cards bring to life the images of warriors clashing on the field of battle, dressed in their gear of war, representing the nations and the causes they serve.